Written by
STOREYS editorial team
More evidence that housing construction continues to slow across the country: Latest figures from Statistics Canada (StatCan) show that the total value of building permits obtained in July fell to $11.2 billion, a difference -6.6% compared to last year.
Falling values ​​in the residential sector drove down the national aggregate, which fell -8.6% year over year to $7.6 billion. While the non-residential sector also experienced an annual decline, it was less pronounced at -2.1%.
Much of the pain is concentrated in Ontario, which effectively wiped out top performers in British Columbia and Quebec. In fact, according to StatCan, "low construction intentions" prevailed in six of the 10 provinces.
Single-family permits, in particular, fell in Ontario to -13.9%, reversing gains in six other provinces and contributing to a national decline of -57%. However, StatCan notes that "despite the decline, this component remained 14.8% higher than the same month of 2021."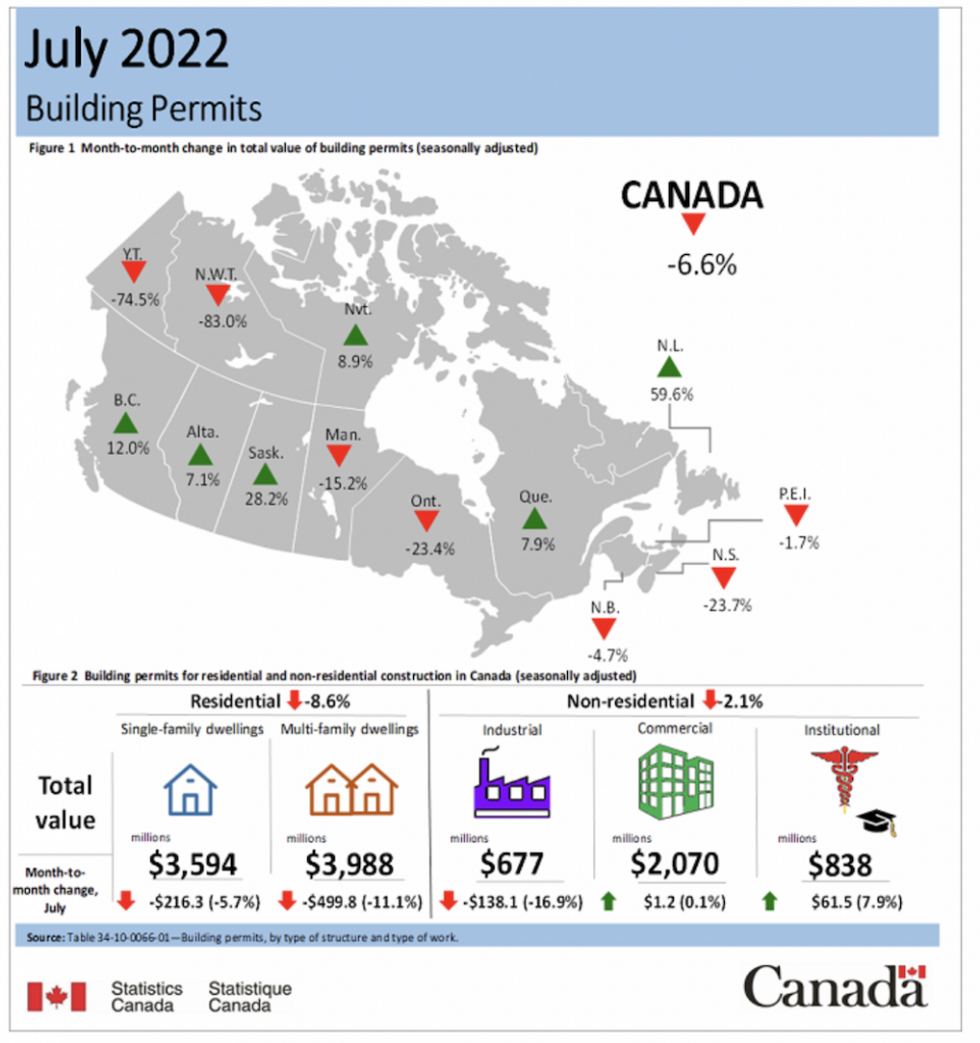 The multi-family home segment also lagged -32.8% year-over-year in Ontario. This was not the case on the West Coast, however, with strata permit values ​​up 9.3% in British Columbia.
READ: Multi-Family Home Sales Drop Over 30% in GTA
On the non-residential side, while there were gains in the commercial and institutional segments, the value of permits fell -16.9% for industrial projects, leading to an overall decline of $3.6 billion.
Consistent with the trend, Ontario leads in permit value losses for newly constructed industrial space, down -31.1% (the third consecutive monthly decline) and a return to "more typical levels after approaching the $1 billion mark in January and April.
Building permits in the commercial sector were fairly flat nationally, but saw huge gains in Alberta of 72.8%, reflecting migration from other provinces to available land in the Calgary and Alberta areas. Edmonton.
READ: Vancouver's industrial market has the lowest vacancies in Canada
Meanwhile, the institutional construction sector is booming, with construction intentions up 7.9%. This is led by huge growth in British Columbia (207.2%). Overall, according to StatCan, this is an improvement from weaker results in June, and was also boosted by several major project permits.
Written by
STOREYS editorial team